The Pilates method is a system of exercises that was developed by Joseph Pilates in the 20th century with the purpose of improving muscle strength and developing overall fitness.
Clinical Pilates, an adaptation of traditional Pilates, serves to provide therapeutically modified exercises in order to assist in rehabilitating and preventing injuries.
Clinical Pilates in Cypress Physiotherapy in North Vancouver
This allows physiotherapists to offer personalized treatment sessions with exercises that are specifically tailored to your individual needs and goals.
The goal of Clinical Pilates is to activate and engage specific muscles in your body in order to address dysfunction and provide a safe and effective recovery process to help you regain optimal mobility.
Our Cypress physiotherapists in North Vancouver offering Clinical Pilates have training and knowledge in anatomy, physiology, orthopedics, and biomechanics which allows them to adapt and modify exercises and use specialized equipment to provide you with a quality rehabilitation program. These various exercises will take place on the floor, on an exercise ball, or with specialized equipment such as a reformer and a trapeze table.
Clinical Pilates is a goal-oriented therapy that can be used to address a wide range of injuries and conditions. It focuses on building a strong foundation within the core by targeting the deep abdominal and pelvic floor muscles.
By generating a stable framework, an individual can then progress to address postural dysfunction and work on generating improvements in balance, strength, motor control, coordination, flexibility, and breathing. It is also a beneficial way to participate in low-impact exercises in order to maintain your overall health.
Clinical Pilates can be a beneficial therapy for those who may be experiencing: 
Neck pain
Soft tissue damage
Pelvic & hip pain
Postural dysfunction
Repetitive stress injuries
Muscles strains and joint injuries
Arthritis
Upper & lower limb injuries
Restricted or excessive mobility
Pelvic floor dysfunction
Post-operative injuries
Those who engage in Clinical Pilates will experience a treatment that integrates the entire body in order to retrain and challenge your motor patterns.
Those participating can see improvements in their overall body alignment which results in better posture, balance and increases the availability of movement in their daily life. It can help to reduce pain and also increased body awareness and strength which can be an excellent way to prevent recurring or future injuries.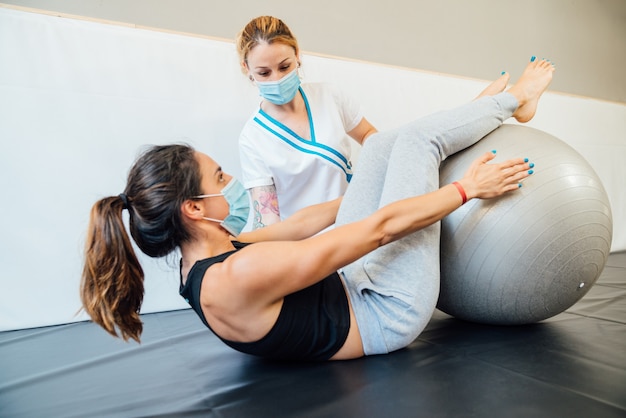 Experience Clinical Pilates classes in North Vancouver
Our Cypress physiotherapists in North Vancouver will provide a one-on-one experience and spend time carrying out an assessment that is individually tailored to you.
By understanding the orthopedic and biomechanical underpinnings of how the body works, we can selectively employ the right Clinical Pilates techniques and create a sustainable and effective care plan to help you get back to full, pain-free functioning and participating in the things you love.
Call or go online to book an appointment for your Clinical Pilates Session with Cypress Physiotherapy and Health in North Vancouver.